B2B Case Study: McCarthy Building Companies
How we helped a commercial construction titan reach more prospects … month after month … after month.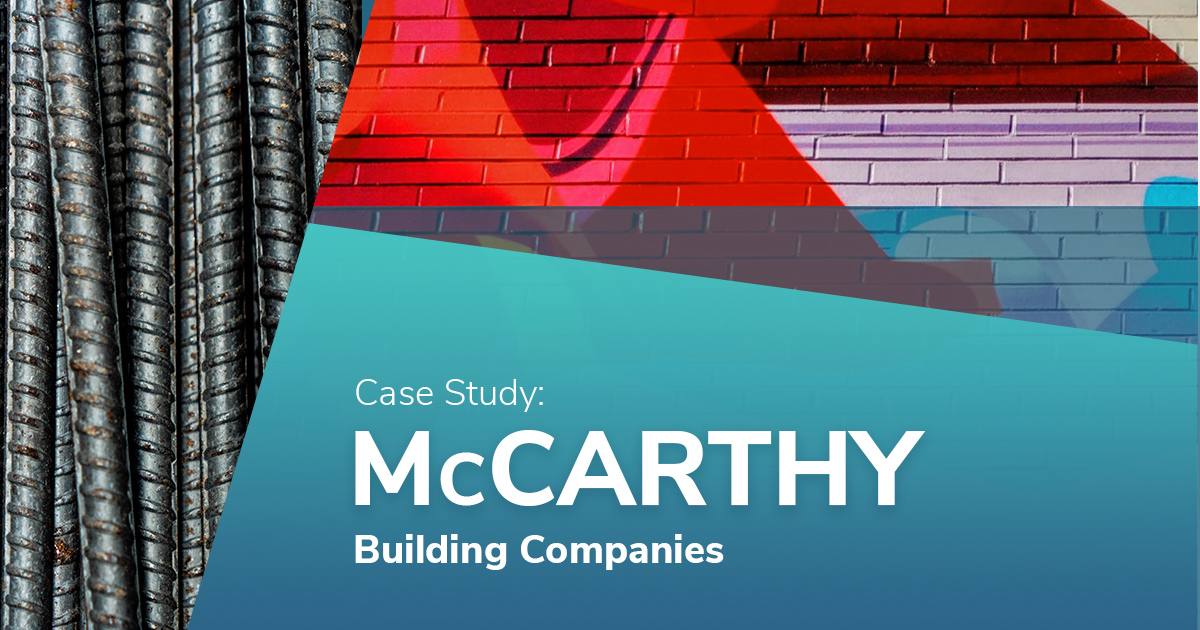 A B2B Case Study at a Glance
The Problem:
McCarthy Building Companies, one of the leading commercial construction companies in the US, needed to make sure that they continued to stay competitive atop the SERP (search engine results pages) with competitors like Gilbane, Turner, and DPR investing in their own digital efforts. The McCarthy marketing team also knew that the wider objectives they set for their company are best accomplished with the expert assistance of a marketing agency like Oneupweb – especially when so much of their business goals hinges on the success of their website and digital content.
The Solution:
McCarthy partnered with Oneupweb to execute a yearlong monthly retainer in order to concentrate on strategic projects while still retaining the flexibility to address any other urgent needs that might come up. McCarthy first hired Oneupweb to do search engine optimization (SEO) work for their website, McCarthy.com, in 2010. Since then, McCarthy, Forbes' #112-largest private company in 2018, has steadily grown. For example, from 2016 to 2017, McCarthy increased its $3.7 billion annual revenue by 7.1 percent ($262 million). Not bad. In 2017, our role with McCarthy expanded from SEO to include social media, research, and general digital marketing help.
As you read this case study, picture how a 10-hour monthly retainer could move the needle for your business.
The Results/Benefits:
SEO:
Organic goal completions up 771%
Organic click-to-call up 712%
Organic email clicks up 675%
These statistics represent YOY performance from 2016 to 2017.
Digital Marketing:
Goal completions from all sources up 1344%
Sessions from email up 459%
These statistics represent performance for all of 2017.
Social Media:
Social referral sessions up 156%
Instagram referral sessions up 18,507%
Twitter referral sessions up 111%
Facebook referral sessions up 59%
These statistics represent YOY performance from 2016 to 2017.
Chapter 1: McCarthy, Oneupweb and the Marketing Retainer
You're the COO or CFO of a company looking to build a new state-of-the-art hospital. Or you're a decision-maker at a university looking for a partner to design and build your new campus building. Or you're at a science & technology company ready to build a new biotech laboratory, or in government looking for the right firm to make your community's new water treatment facility, airport, municipal building, stretch of highway, or elementary school a reality.
McCarthy has a reputation in the industry as a design-builder and EPC (engineering, procurement, construction) firm that can design and build the largest, most technically challenging projects in the United States and deliver quality results on time and on budget. Their 3,000+ employees are known for using cutting-edge project management practices and for wholeheartedly incorporating the latest sustainability and green building innovations.
Headquartered in St. Louis since the 1800s – but serving every major market west of the Mississippi and many to the east – McCarthy is privately held and employee-owned.
Oneupweb has been McCarthy's SEO vendor and consultant since 2010.
When companies launch new websites, as McCarthy did in 2016, it's common for them to see a website traffic/sessions dip because it throws Google, Bing and Yahoo algorithms a curveball when web page copy and URLs change. Search rankings can drop permanently if nothing is done to identify problem pages and optimize them.
While supporting McCarthy within the retainer, we noticed their sustainability content (LEED certifications, net-zero building, and renewable energy project pages) had dipped in organic performance since the launch. So with a green light from McCarthy's marketing team, we used some retainer time to re-introduce some of the well-performing content from the original pages into the new pages and optimize them to help buoy them back up toward the content's former rankings.
This was important because within the construction industry, McCarthy is a leader in sustainable green building and over the years, more and more prospective project owners are eager to work with builders like McCarthy who can deliver projects with world-class green credentials and super low operating costs (net zero buildings that generate as much electricity as they use).
Beyond that, the McCarthy marketing team looked to Oneupweb to fine-tune their new site with other improvements such as user experience (UX) and to fully optimize all the new content added to the site – mostly new project pages as the company completed new buildings. These brand new project pages are some of the most important for attracting and converting prospects – so fast, optimal rankings in Google, Bing and Yahoo for these new pages is critical.
Oneupweb also served as McCarthy's go-to digital marketing fixer as they marched, month by month, toward their annual marketing goals.
When the Oneupweb SEO team determined that overall website sessions were down after a new iteration of their site was launched by a vendor in 2016, we identified the specific web pages on the new McCarthy.com that had dropped from their previous number of sessions. Then we fixed those pages and buoyed their rankings back toward their previous levels before the launch of the new design.
In our 10-hour monthly retainer agreement, we also made improvements to McCarthy's SEO, analytics, user experience and on-page optimization. We provided valuable demographics research to their marketing department, and we adjusted calls to action to improve conversion rates on their regional office pages. Additionally, McCarthy used its 10-hour monthly retainer for help with a wide variety of technical digital marketing tasks and, for the first time, their social media. It was a company goal in 2017 to increase the amount of traffic to McCarthy.com from their social accounts.
In their 120 hours total for the year the company tasked us mostly in these areas:
SEO and Digital Marketing (Chapter 2)
Social Media (Chapter 4)
Month after month, we helped McCarthy worked toward meeting their most important marketing and business goals over the course of 2017. We also stood at the ready and jumped in whenever necessary to solve their most pressing digital marketing problems as they arose along the way.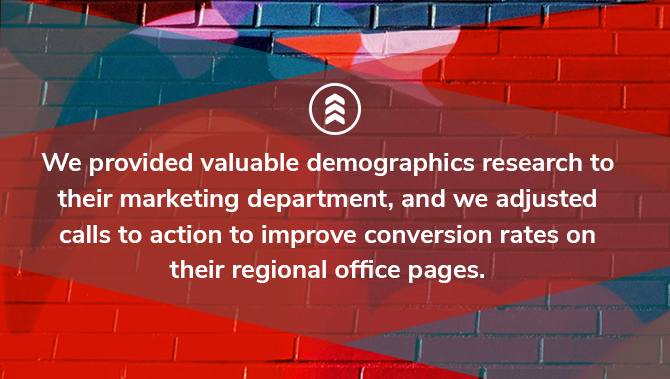 Chapter 2: Retainer Agreement Approach: Digital Marketing and SEO
Over the course of 120 hours, we got a lot of work done. We worked to improve McCarthy's newly launched, re-branded website where there were drop-offs in rankings, sessions or conversions. We optimized new copy they added to the site throughout the year, which was mostly new project pages, and completed a long list of one-off digital marketing tasks that really helped their internal team – and the company as a whole – in a multitude of ways.
1. Website redesign post-launch SEO support
Fresh on the heels of the launch of their redesigned website, we began 2017 ascertaining how McCarthy's new site was performing.
We determined that while mobile sessions were up, their overall sessions were down – a common problem experienced when a new version of a site is launched. But when it came to solving this predictable post-relaunch problem, where, exactly, to start? McCarthy put us on the case.
Due to the URLs on the new site being different from the previous version, tools like Google Analytics weren't able to do these side-by-side comparisons. So, we manually compared the sessions between the old site benchmarks and the new site numbers to isolate and identify the under-performing pages. Then we determined that many had title tags, meta descriptions, URLs, and important on-page copy changed or cut during the redesign – after all, the new site was built by the third-party vendor in part to make the site look good and work well on a small screen, where streamlined page copy looks best. It was understandable.
Web pages are always striving to strike that perfect balance between content and design. Many of the problem pages had simply been pared back too far in the redesign process in order to hold on to their previous rankings. So we went to work, expanding the copy on those pages – bringing them more in line with their previous iterations while also adhering to the aesthetic spirit of the new site. We re-introduced missing keywords and, in some cases, added title tags and meta descriptions lost in the transition.
2. Sustainability/Green Building Content Marketing and SEO
Some of the traffic drop-off McCarthy endured immediately after the launch was to some of their most important pages, including those pages detailing their sustainability bona fides and their utility-scale and distributed renewable energy capabilities.
Sustainability is a powerful selling point for prospects in government, higher education, and private industry looking to partner with builders who can deliver LEED-certified and net zero water treatment plants, performing arts buildings, hospitals, biotech laboratories, and other structures for their communities and investors.
And with solar energy projects growing exponentially in McCarthy's regional southwest and California service areas, it was vital to quickly re-establish their high profile for this type of work.
In April, we used retainer hours to incorporate aspects of the old content into the new content and introduce new, even more up-to-date keywords for both the sustainability page and the renewable energy page.
The results were excellent. By July 2018, we had transformed a 74% drop in sustainability page organic sessions into an 83% improvement. Likewise, organic sessions for the renewable energy projects page shot up 250% after additional content and targeted keywords were added, besting the previous iteration's performance.
3. Ongoing SEO Support
As McCarthy continued to produce new content for the newly launched site, we provided on-page optimization and ongoing keyword strategy to ensure their newest content – often the most relevant to potential new clients – received maximum standing and exposure in Google and Bing.
McCarthy's newly finished healthcare center, auditorium, museum, or port expansion project pages are extremely relevant to prospects who want to learn about McCarthy's latest work in their particular vertical, whether it's education, hospitality, healthcare, alternative energy, civil or another industry.
Individual SEO-related Retainer Tasks Completed
If sessions are down, it's hard to meet your business goals. McCarthy took advantage of their retainer to tap our SEO and content marketing team to improve the standing of the pages that suffered in the post-launch, and to ensure maximum standing for new project pages. The SEO-related work we completed for McCarthy included:
determining the cause of noticeable post-launch dip of Bing and Yahoo traffic
updating existing (or providing missing) title tags and meta descriptions
adding meta description fields to pages of the new site that were missing in the CMS
keyword research that increased traffic and raised the percentage of qualified users visiting the site
copywriting
adding alt text to photos
content gap analysis, which measures how McCarthy stacks up against the competition for their core keywords
4. General Digital Marketing Support
Our retainer agreement also allowed us to serve as a go-to digital marketing specialist for McCarthy. Oneupweb is always poised with our specialized skill sets to help businesses solve complex problems and get to "point B." We're also ready to stamp out fires as they crop up from time to time.
Across the months of 2017, McCarthy entrusted us to improve the visibility, usability and performance of their site and identify the cause of and correct dips in traffic. They also asked us to help them better understand their audiences on their various platforms and glean insights that proved valuable for McCarthy company-wide.
Individual Digital Marketing Retainer Tasks Completed:
There's a lot more to meeting your marketing and business goals than SEO alone. McCarthy took advantage of their retainer for more general digital marketing help. Month to month across 2017, we provided the McCarthy team with:
tagging that allowed McCarthy to track traffic to their website from Google My Business in Google Analytics
tracking that gave the company more insights into their email campaigns
visibility into the audience demographics and seasonality of regional office page traffic
visibility into the terms entered into the homepage search bar, which also provided business insights
recommendations for how to best add logo download capability in the future to their Press page, to give stakeholders and the media fast, professional access to the McCarthy logo
consulted on issues/questions regarding the development of several of the company's new subsidiary websites
the addition of Google Analytics (GA) goals for job applicants
fine-tuning the conversion funnel for job applicants
offered their development partner development tips and worked with them to help implement new content on McCarthy.com
monthly reports that gave McCarthy a current snapshot of website performance, data analysis, and our forward strategy

By July 2018, we had transformed a 74% drop in sustainability page organic sessions into an 83% improvement.
Chapter 3: How the Retainer Agreement Made a Difference with Digital Marketing and SEO
Thanks to the retainer agreement, McCarthy more than returned its new website to its former level of performance (performance is consistently up year over year) and ensured that its newest, most important pages received good exposure in the search engines. Within the retainer, they also received a number of digital marketing solutions that helped their marketing department, and the company as a whole, serve and understand its audience better, convert more traffic, and win more business.
SEO Success/Benefits:
These numbers were pulled looking at the full year of 2017 compared to the full year of 2016.
Organic traffic to Sustainability page up 60%
Organic traffic to Renewable Energy page up 69%
Conversion rate increased 1,311% YOY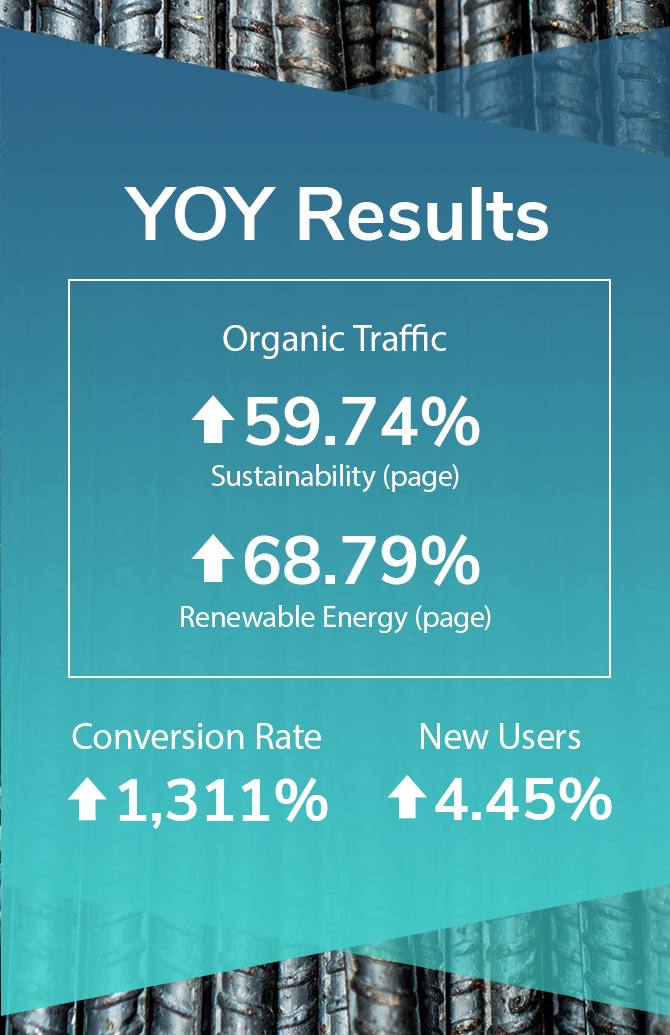 Digital Marketing Success/Benefits:
We began tracking searches on the McCarthy website to gain a better understanding of what users are looking for and created pages to provide missing information.
McCarthy is now prepared to plan a Google Jobs strategy with their third-party job listing partner.
McCarthy was able to clean up their email list in preparation for updating their email strategy.
McCarthy is now able to track when users submit job applications to better understand what channels those users are coming from and what they do on the site before submitting an application.
The demographic research we did for their regional office traffic provided each office, and the company as a whole, with valuable insight into the audiences specific to each regional office.
In 2019, we continue to work with McCarthy on a 10-hour monthly retainer for work that includes SEO and digital marketing maintenance. What would a monthly retainer partnership look like for your organization? You can join this $3.5 billion revenue company in partnering with us, too. Oneupweb would be on hand to fix technical/complex problems, identify new opportunities for improvement and, overall, lend you the digital expertise needed to make your business goals reality.
Chapter 4: Retainer Agreement Approach: Social Media Strategy
In 2017, after working with us for seven years as an SEO partner, McCarthy asked Oneupweb to also focus on a new task: move the needle on their social media accounts.
McCarthy wanted their social media to better reflect the company's position as a thought leader in the industry, and to better serve their clients, industry partners, employees and influencers in the markets where they have regional offices.
McCarthy also wanted visibility into the amount of traffic that was landing on McCarthy.com from their social accounts, and to grow their social followers by 10 percent year over year.
In 2017, McCarthy was active on Facebook, Twitter, LinkedIn, and YouTube, with a newer presence on SlideShare, where our content marketing team had helped them convert white papers into easily digestible slide shows.
In January, McCarthy asked us to help them drive more traffic to their website from social and track social traffic inside Google Analytics.
First, we reviewed what social tracking already existed. We determined that in January only 1.53 percent of their McCarthy.com website sessions were referrals from the company's social media accounts, and that only 1 percent of their website conversions were attributable to social.
We began by focusing on their YouTube account where the content was strong but the engagement was relatively low. McCarthy's marketing team wanted to increase video views and subscribers to the channel.
After auditing their YouTube channel, we recommended specific keywords for their video packages and helped their team optimize the existing videos with tagging, cards and thumbnail images. Together, these upgrades allowed search engines to better understand the content and made the videos more clickable to channel visitors. We provided best practices about links, CTAs and length of video description copy to convert more visitors into actual video viewers. We also recommended other tools built-in to the YouTube platform, for example, including call-to-action end screens on each of McCarthy's excellent videos to encourage viewers to subscribe to the McCarthy YouTube channel.
To increase qualified views, we also looked at distribution. We encouraged the McCarthy marketing team to include new videos in email newsletters and to pitch relevant videos to the sales department for inclusion in their sales material and to cross-promote them on other social platforms.
In November, after McCarthy implemented our suggestions for improving performance on their YouTube channel, we delivered researched keywords, including project-specific ones to use in McCarthy's YouTube content descriptions, titles and meta descriptions, as well as strategy to guide keyword placement for maximum ranking in search. In December, McCarthy hired Oneupweb to conduct a comprehensive social media audit to define goals for each channel moving forward into 2018 and beyond.
Recommendations we provided in 2018 included:
the type of content to create and post on each channel
when to post on each channel
when to use hashtags and tagging
branding consistency
design recommendations
how to create an "employee amplification" program at the company in order to expand the reach of their social posts
Chapter 5: How the Retainer Agreement Made a Difference with Social Media
Thanks to the retainer, McCarthy was able to connect their social media efforts to true business results in sales and recruiting. They also were able to tune-up their YouTube account and grow viewership and subscribers through improved UX and distribution of their high-quality videos.
Chapter 6: Conclusion
Every client has unique needs and business objectives. McCarthy used its monthly retainer to restore its previous ranking in search engines after its redesign launch; capture more leads from sustainable construction and green building keywords; ensure maximum exposure in the search engines for its newest, most important content; look even more professional online; attract job applicants; and better understand its own audience.
We also served as their go-to resource to solve complicated digital marketing problems as they arose, helping them meet their most important business goals for the year, 10 hours at a time.
Get in touch with us if you'd like to learn more about how Oneupweb's retainer agreements can make a difference for your company or organization.